28 August 2013
The auspicious day when Lord Shri Krishna was born is celebrated all over India as Krishna Janmashtami and so did the family of AMIS.
A part of the campus was decorated with beautiful drapes and flower rangoli. Krishna's idol and a pot of butter hung above brought about a transformation to the place.
The tiny Krishnas and Radhas of AMIS took us to the enchanting world of Vrindavan with their captivating smiles and mischief in their eyes swaying to and fro to Krishnas bhajan.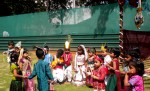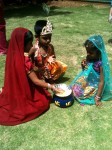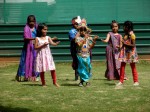 More photos
Children from different classes showcased their beautiful dance performance.
Who doesn't love soothing melody? A music which touches you deep within is a rare treasure. But we at AMIS were very lucky. Harvinder Didi played the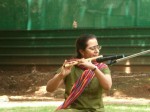 flute for us. The music just flowed creating an atmosphere of joy and peace within. No wonder, Krishna had a group of gopikas following him to hear him play the flute.
The children of AMIS did not lose much time in quickly festing on the butter from the pot, thoroughly enjoying themselves. After all ! Truly Krishnas !
Ladoos were distributed to the mark the end of the celebration.