3rd June 2017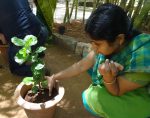 More Photos
The new session 2017-18 in Auro Mirra International School began with its Orientation Programme which was an ice-breaker for parents of the new students.
In this programme parents learnt about the unique approach of Auro Mirra and were informed about the rules and regulations to be followed.  Teachers were introduced to them and they enjoyed and appreciated the SAPLING activity thoroughly.
The afternoon Orientation session was attended by the parents of the tiny tots who graduated from Pre-Primary to Primary.  They were made aware of the changes that their children will be coming across in Class 1 as it is a giant leap for them.