29th May to 2nd June 2017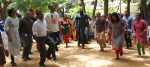 More Photos
In Auro Mirra International School, a proactive session involving parents to give them an understanding of the methods the school adopts towards facilitating learning in a child was conducted from 29 May 2017 to 2 June 2017.  The sessions were very successful in getting parents deeply involved, inspired and interested in their children's education.  They were also offered glimpses of how integral learning takes place at AMIS.  Parents who remained active participants throughout the course of the workshop were transformed and instilled with so much enthusiasm, confidence and trust that they had had made the right choice in selecting AMIS for their child.
Oh yes! The very special school where the child learns and is not taught!!!
Parents also posed some thought provoking and challenging questions, to which they received convincing and effective responses and suggestions, and got their doubts clarified satisfactorily.